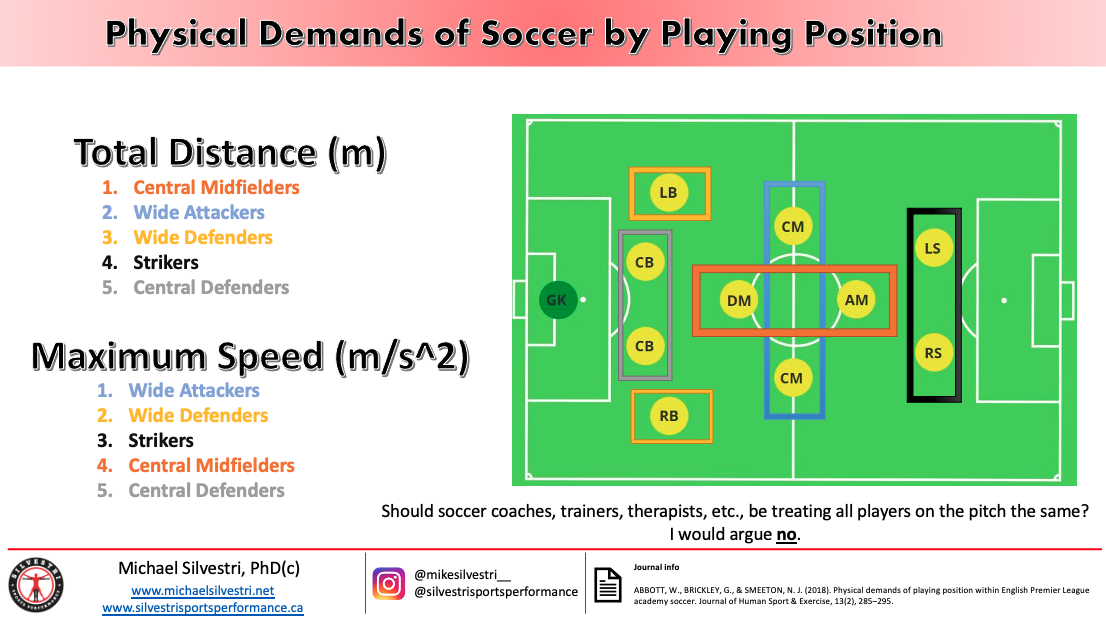 The sport of soccer (European football) is a very diverse sport in relation to the varying positions on the field and how each position carries a very diverse skill set and physical abilities that portray the ideal athlete to play in that given position.
Abbott et al., 2018, where able to identify how the 5 main positions on the pitch all have differing physical abilities that are associated with them. The paper in question specifically looked at how each position matched up in comparison of total distance covered and maximum speed both within a match. The above infographic shows the positions in ranking of highest to lowest and has a corresponding diagram to identify where the position lies on the pitch.
With the above knowledge, I believe it is a fair conclusion to draw that each position on the pitch requires a very specific training and coaching regiment compared with the next. It is easy for coaches, trainers, and therapists to provide a blanket one size fits all approach to a team/group of athletes, but truly this may be a well intentioned disservice to most players.
Knowing a central midfielder covers the greatest distance in a match, should lead the coach to want to limit their distance in training at certain times throughout the year to prevent overuse injuries, likewise for a wide attacker where the coach would need these athletes to be the fastest on the pitch as shown that the given position is the fastest athlete on the pitch.
With this in mind it is important to understand how well designed athlete development plans will take into account the position of the player, while also identifying strong suites and weaknesses both within skill set and physical attributes in which the player would need to work towards bettering or work towards perfecting in order to bring their skill set to the next level. Knowing the athlete will lead to the practitioner/coach being able to produce the greatest training program for the given athlete at a specific time.
Until next time,
Michael Silvestri, PhD(c)
President/Director of Performance
At Silvestri Sports Performance, we aim to achieve elite athlete development and human performance through the blending of science and practical applications to deliver high quality human performance, athlete development, and rehabilitation.
ABBOTT, W., BRICKLEY, G., & SMEETON, N. J. (2018). Physical demands of playing position within English Premier League academy soccer. Journal of Human Sport & Exercise, 13(2), 285–295.
The article is used with permission from Michael Silvestri and the original can be found at www.michaelsilvestri.net